SITE SERVICES
At Waste By Rail, Inc., we realize that each project is generally site-specific and we work hand-in-hand with our clients to provide for and plan the most economical and efficient solutions for their waste management and transportation requirements.
Waste By Rail Inc. has demonstrated cost effective treatment and stabilization of contaminated dredge materials, and showed that the stabilized dredge sediments can be effectively used in construction projects without a negative impact to the environment. We employ typical construction type equipment to complete the work and to operate in a manner that would be typical of a large-scale sediment stabilization project. For example, contaminated dredge material from harbors and river estuaries has the potential to impact the environment through groundwater or soil contamination if it is simply deposited "as dredged" on land.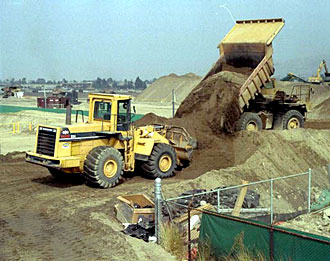 In addition, raw dredge material is generally not suitable for immediate use as structural fill for harbor area construction projects and the previous practice of offshore disposal of contaminated dredge material is no longer acceptable. Some of Southern California's harbors and river estuaries contain dredge sediments that are contaminated with various toxic metal and organic chemicals. This mixing head attachment was designed and built by WBR to blend stabilizing reagents with dredge sediments, pond sludges and any other type of contaminated wet solids. The reagents used for this test program were formulated for the specific constituents within the sediments to be stabilized or processed. The mixing head used has the unique ability to thoroughly blend reagents by propelling the viscous sediment and reagent mixture vertically, from top to bottom, through the rotating mixer, thus insuring that all particulates of the sediments are introduced to the reagent formula. This allows for maximum binding or encapsulation of the sediment particulates.
The WBR mixing head was designed to operate between 0-300 rpm and can move in both vertical and horizontal directions throughout the cell. It is of paramount importance that the mixing mechanism generates sufficient agitation to blend the entire batch of sediments with the reagent formula. The WBR mixer has the ability to re-distribute sediments within a barge or mixing cell in a manner that promotes the consistent blending of all reagents and sediments throughout the barge or cell. This re-distribution of sediments was achieved by moving the mixing head left, right, vertically or horizontally, creating a blending action throughout the cell area.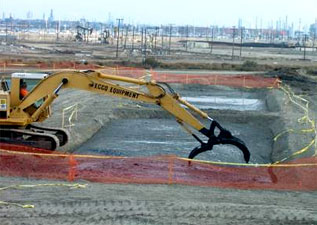 Site Remediation
Dredge Sediment
Solidification and Recycling
Project Management
Administrative Services
Document Preparation
Health & Safety Plan preparation
In short, our site services consistently save our clients thousands of dollars in packaging and transportation costs.
We would be happy to an in-depth presentation regarding our services provided by ECDC/Waste By Rail, Inc. This will afford you the opportunity to discuss in detail how our customized comprehensive waste management, transportation, and disposal services may be utilized to your advantage during the planning and implementation of your projects.
Back to Top