TRANSPORTATION
Waste by Rail Inc. offers a complete custom transportation service for generators of all types of solid and hazardous waste, including direct transportation from the generator site to the disposal site or to a generator identified processing facility.
Waste By Rail clients are provided with the most cost effective transportation mode involving shipments via direct rail, truck to rail (intermodal) or truck direct. ECDC/Waste By Rail, Inc. can engineer transportation plans specific to your needs that will utilize our fleet of over 2,000 rail cars and intermodal containers.

A wide variety of specialized private railroad equipment is utilized, matched by the WBR staff to the customer's waste type. This American Railroad Association approved equipment includes intermodal containers on private flatcars, both high and low capacity gondola and hopper cars, tankcars for liquids and boxcars for drums. These containers can be used to hold any type of bulk solid waste, ranging from low-density waste materials (such as plant waste, auto fluff and asbestos) to heavier more dense materials (such as contaminated soils, sludges, construction and demolition debris). Additionally, liquid waste is transported on the railroad through the use of special tank cars that are in excess of 5,000 gallons for larger volume projects and the smaller standard tank cars of 5,000 gallons for smaller volume projects.
Intermodal Rail Containers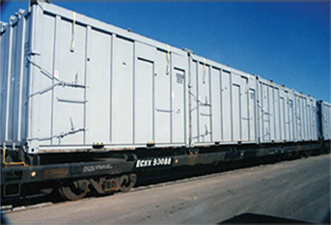 Our clients often take advantage of the opportunity to ship larger volumes of waste in large 100-ton rail cars and intermodal containers on flat cars. This is a safe and legal alternative to standard truck transportation and offers significant savings to our clients.
These intermodal rail containers are loaded at the generator's facility, picked up by WBR trucks and delivered to the nearest rail yard for placement onto flatcars for shipment to their ultimate destination. Available in a variety of sizes from 20 to 80 cubic yards, the size of the container provided is matched to the density of the material for shipment, thereby maximizing container shipping weight and increasing efficiency.

Gondola and Hopper Rail Cars
The gondola rail car is typically used for hauling bulk materials such as contaminated soils, glass, scrap steel or other bulky commodities. The payload capacity of gondola cars range from 95 to 114 tons.
Motor Carrier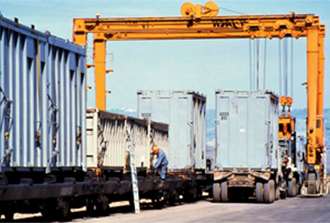 Waste by Rail Inc. serves many private industries with dedicated transport and disposal contracts. We can arrange over-the-road transportation services to meet your unique needs.
No matter what kind of material you need to transport, Waste by Rail Inc. can offer a dependable safe and economical transportation solution by applying our vast experience movement of wastes and commodities by truck and rail.
Waste by Rail Inc. provides professional logistical support services to coordinate and facilitate the flow of waste or other commodities during transportation. This logistical support service is custom designed to enhance and maximize each customer's transportation requirement.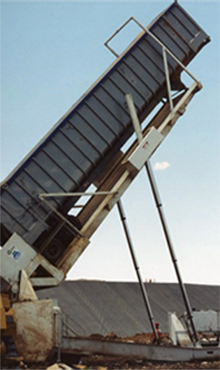 Over the last decade, we have developed cost saving alternatives for the transportation and management of waste and recyclable material. ECDC's customers have realized intermodal transportation not only to be cost efficient, but also a reliable option for waste management.
Containers of various sizes are moved by truck and placed directly at the job site. After loading, the containers are transported to our private intermodal rail terminal, located in Los Angeles, California. At this terminal, ECDC/Waste By Rail, Inc. has the ability to ship to any designated waste disposal or recycling facility within the continental United States. All transportation required for the delivery of the materials to the designated facilities is included as a component of ECDC's/Waste By Rail's "turnkey" service.

Some recent transportation projects include:

Lockheed B-1 Project in Burbank, California involved the handling of 150,000 tons of soil and debris loaded, transported by rail and disposed of at ECDC Landfill in Utah.
Los Angeles Department of Water and Power Sylmar Water Filtration Plant. Loaded, transported by rail and disposed of 140, 000 tons of filtration solids.
Port of Los Angeles, Berth 52 involved the loading, transportation and disposal of approximately 12,000 tons of contaminated coal dust and petroleum coke from the former Kaiser Bulk Terminal in San Pedro.
US Navy, Seal Beach Naval Weapons Station. Loaded transported by rail and disposed of approximately 30,000 tons of contaminated soil.
Auto Recycler producing Auto Shredder residue located in Los Angeles California. Transported by rail and disposed of approximately 340,000 tons of contaminated auto shredder residue.
Los Angeles County Department of Sanitation, Waste Water Treatment Plant Expansion, Carson, California.
Loaded, transported and disposed of approximately 70,000 tons of contaminated soil and residue from former wastewater treatment operations.
Alameda Corridor Transportation Authority/Modern Continental Construction Company, Carson, California. Loaded, Transported and disposed of approximately 150,000 tons of contaminated soil and debris.
Back to Top